The Major League Breaking Balls (both of them) modeled by the "real" Terry Guggenbiller
The Major League Breaking Ball makes a couple appearances in
Sega CD Summer.
It's a training tool my father, the "real" Terry Guggenbiller, believes he bought from Baseball Digest when my brother was 12 and I was 8. That would make these Major League Breaking Balls about 34 years old!
During a recent trip back home, I asked my dad if he still had the balls. They were sitting in a bucket inside the back of his RAV4 with some baseball gloves and a bucket full of actual baseballs. I decided it would be fun to get a few pictures of the balls, which we used from about 1988 through the end of my high school baseball career in 1999.
We were struck by the visual similarity in the big chips between both balls! I think they're made of hard plastic, although they have a kind of ceramic feel to them. He definitely got his money's worth out of these bizarre training tools.
This gives you a look at the MLBB, which is about three-quarters of a real baseball with a flat side
What's the purpose of the Major League Breaking Ball? It allows pitchers to simulate a pro-level breaking pitch in batting practice, giving the batter a look at a sweeping curveball you'd see in higher levels of baseball.
Dad, an excellent BP arm who could throw with some zip, never thought he had a very good curveball. The absurd-looking training tool allowed him to throw an incredible one. He conceded he would aim for my head and hope the pitch did what it was supposed to do. I can tell you without a shadow of a doubt that the thing was amazing, resulting in a sweeping pitch that looked like it would maybe go behind you before ending up in the middle of the plate.
He mixed the breaking balls in with regular baseballs during batting practice and didn't tip his hand so my brother and I would learn to adjust to breaking pitches.
Another look at the breaking balls
The Major League Breaking Ball isn't essential to the book or its plot; it's simply something Terry Guggenbiller uses during batting practice, much as my father did when I was a young baseball player. I thought it would be fun to show people the strange baseballs, which came in a red box and featured the endorsements of Boston Red Sox slugger Jim Rice and Baltimore Orioles pitcher Mike Flanagan.
Because the internet is forever and remembers everything, you can still find the odd Major League Breaking Ball for sale on eBay. One
listing has it for $39.95
with the original box and instruction sheet.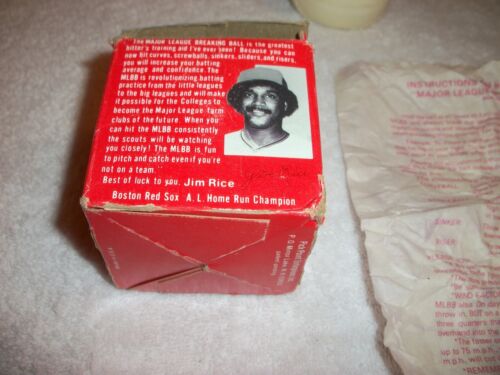 This is the side of the original box featuring Jim Rice. The photo comes from the eBay listing referenced above.
A different eBay listing
has the Major League Breaking Ball for $8.99 sans the box and instructions. While that listing said the ball has some minor scuffs, it's in much better condition than the two currently residing in Williamsburg, Indiana, which have been chipped as a result of mighty swings from Tommy Guggenbiller and Craig the Baseball Prodigy.
While I'm on the subject of curveballs, I may as well vouch for the authenticity of a scene from
Sega CD Summer
in which Tommy gets plunked not once but twice by a "curveball" thrown by his beloved baseball coach, Swearin' Sammy Reed.
Though the names in that story have been changed, it is 100% true. In this case, I was Tommy Guggenbiller and Swearin' Sammy was the late, great Mike Ryan, my youth baseball coach for many seasons in Williamsburg. Too bad the coaches didn't have the Major League Breaking Ball to save their players from bruised hips--and themselves from bruised egos.