Once, long ago, I posted on the internet as Studicus, an in-joke nickname related to a skit from high school. When I first started blogging, I called my year-end entries "Studicus Selects." The tradition has continued since 2005...although I skipped 2006 for some unknown reason.
You'll find past entries here (scroll down for the 2021 picks):
Studicus Selects 2020
2021 was supposed to be better. We had vaccines, we knew what it would take to keep the pandemic at bay. The spring and early summer showed such promise. But too many people were determined to upend simple inconveniences like vaccines and masks. We lost control, again. The delta surge came, followed by omicron. No matter how hard we tried, we could not escape the pandemic's iron grip.
People returned to their workplaces. Life went on. Sports went on. COVID-19 went on.
It wasn't all bad. We didn't have to cancel Thanksgiving this year. We didn't fret about Christmas. With my immediate family vaccinated, these events proceeded pretty much as normal, aside from the lingering thoughts of the year that came before, when Anne and I picked up Denny's for Thanksgiving (they were out of mashed potatoes!) and we wore masks in Williamsburg for a very pandemic Christmas.
Hey, maybe 2021 wasn't quite as bad as it originally seemed. Let's take a look back with the 2021 edition of Studicus Selects.
Selfie taken during my second Pfizer dose. Vandelay Industries! Say Vandelay Industries!
Best Clara's Pizza King Tour Stop, Vaccination Category. Once the COVID-19 vaccine became available for my age group, I signed up. Things were pretty busy in Marion County, so I got my shots in Richmond, Indiana. This was great for a couple reasons: I got to see my family and I got to order Clara's Pizza King. Three weeks between shots? Bring on the BBQ pepperoni pizza! What, Anne needs a shot, too? Can't do it the same weekend? I'd better drive her home so she can get her shot. Added bonus: family time. Added added bonus: more BBQ pepperoni pizza! Seriously, I got to eat my hometown favorite every Saturday for like a month. It was glorious. Oh, yeah, we also got the Pfizer vaccine. Kind of important, I guess.
This really concerned us!
Best COVID-19 Scare, Recalled At-Home Test Category. Anne didn't feel well in September. Whatever she had, I also got. She was sick for about a week--tired, body aches, no energy. I could barely get off the couch and walking our dog was a challenge. We got an at-home COVID test for Anne, which came back positive. We scheduled PCR tests the next available day; those came back negative. We didn't have COVID-19 (we definitely had something!). As it turns out, the Ellume test we'd bought was part of a recalled lot that returned a high number of false positives. I feel like 2021 was a false positive.
Best Trips Out of Town, Wedding Edition. Well, you know, life does go on. We went to a pair of weddings in 2021 after being homebound for much of 2020. One wedding took us to northern Indiana where my cousin Hannah got hitched; another took us to picturesque Iowa, where Anne's cousin Sam got married. The May wedding came not long after we'd gotten vaccinated, so it felt like the first really big thing we were able to do in this "year of renewal." The Iowa wedding was in October, when delta was taking hold. It was nice to do something normal for once and enjoy some time with family.
Best TV, Farewell, Old Friend Category. The first big purchase I ever made after graduating from college was my 55" Mitsubishi rear-projection HDTV. I got it from H.H. Gregg in Greenwood. This thing was huge and heavy. It sat in my apartment at Lake Piedmont, my apartment with Anne at Valle Vista Armes in Greenwood, and our current home on the southeast side of Indianapolis. For a long time, it served as Anne's TV. But technology evolves; the TV lacked an HDMI port because it was analog. This made it difficult to use with streaming boxes, and HDMI-to-component converters were kind of inconsistent. This year, I made the decision to say goodbye to the big TV, alternatively known as "The Big Musky" and "JumboTron C on the South Side." I got more than 17 years out of the big guy, but we had to put him down before he was old enough to vote.
I was so excited, I took a picture of the menu!
Most Premature "We're Back, Baby!" Return Tour. After more than a year of eating takeout and avoiding movie theaters, we made our triumphant return to post-pandemic life (hahahaha, yeah, right). It started with a long-awaited visit to Mexico City Grill and included stops at Texas Roadhouse and Famous Dave's BBQ. We also went back to the movies for the first time since (checks notes) The Call of the Wild on March 8, 2020. Our first two movies were F9 (June 27) and Black Widow (July 10). We definitely put our Stubs A-List subscription to good use!
I got the collector's edition, which had Jackie Robinson on the box.
Best PlayStation Baseball Game, Xbox Edition. Due to a licensing agreement, Xbox players never got a really good Major League Baseball game. That changed this year, when MLB: The Show came to Xbox. I played the game a lot (I should've been writing), guiding young first baseman Matty Adams from the minors to the big leagues. He developed into an MVP-caliber player and World Series champion. If his career ever continues, he may even become a Hall of Famer. Seriously--a great baseball game. Finally. It was weird to see the PlayStation logo on the boot screen, however!
Assembly and takedown are easy...especially when you don't break it.
Most Needed Front Porch Addition, Tent Category. We like to sit on the front porch in the spring, summer, and fall. Just one problem: our porch gets way too much sun during the day. It's uncomfortable and not very much fun. To help with that, we bought a collapsible tent that's pretty easy to put up and down based on conditions (if it's going to storm, we can easily take it down). When it arrived, I decided to surprise Anne and put it up so it would be there when she got home. Because I am an idiot, I broke the "easy to assemble" product. We sent it back and got a new one. I waited for help the second time. It's hibernating for the winter, but it will be back in a few months!
An unexciting box for an exciting phone.
Most Fascinating Early Upgrade, Flip Phone Category. We did early upgrades on our phones this year, and Anne went with the Samsung Z Flip3. We got it for a good price with a trade-in on her Galaxy S10+. It's really cool. I loved having a flip phone when I was younger--the way it would just slide into my pocket. To be able to do that and have a fully-featured smartphone is really impressive. And when it was my turn to upgrade, I got a Pixel 6. It's a great phone, even if it doesn't fold!
The Updates You Really Want to Hear, Pets Category. I know why you're really here. You want to know what kind of a year our pets had, right? And you want to know so you can look at pictures of our pets, right? Who am I to deny you such cuteness?
Let's start with Howard. It's been an interesting year for the pupper. After working from home for several months (which he loved), I went back to the office in June (which he didn't love as much). He had kind of a rough year that included getting an inhaler for some respiratory issues and having a mass removed from his right shoulder (it was benign, thankfully). He's also gotten way too many dog toys.
Let sleeping dogs lie.
Hidden Howard.
Waka, waka, waka!
Sometimes, he likes being carried!
An over-the-shoulder view...
Napping buddies.
It is REALLY hard to get a good shot of him in a bandana.
The aftermath of his surgery.
Howard had to wear shirts after surgery to prevent him from scratching.
This is Howard's breathing apparatus. You attach an inhaler to it.
The girls at Petco snapped this one!
Willy gave us the biggest surprise of the year. Our poor turtle kept trying to climb out of the tank, and we thought something was wrong with the water. We ended up taking Willy to the vet. Why was Willy trying so hard to get out?
Because Willy is a girl who had eggs she wanted to lay!
When we got Willy, we didn't know she was a girl. Our vet didn't either--she said it was hard to tell with that particular type of turtle. Willy hadn't been kept in bad conditions before we got her, but she didn't have a UVB light and basking spot like she has now. The vet believes she didn't lay eggs for years because she had some health challenges. Now that she has been in a more ideal turtle environment, Willy developed the ability to create eggs. We don't believe she ever laid the eggs--we took her out several times and she tried.
It sure shocked the heck out of us!
Heeeeeeere's Willy!
Basking turtle is basking.
On the hamper, because, of course.
She'll let us get in close sometimes.
Just swimmin' around...
Privacy, jerk, I'm basking!
Lenny is our low maintenance pet. His food isn't expensive. He doesn't try to get out of his tank. He doesn't need to be walked three times a day. And best of all, when we took him in for a checkup, the vet said he was a remarkably healthy leopard gecko and gave him a clean bill of health. Way to go, Lord Leonard!
Comin' at ya!
Lenny always like a warm hand!
"And now the majestic leopard gecko goes for a drink..."
"Seriously, dude, get the camera out of my face."
Here, Lenny is climbing my Return of the Jedi shirt
Lord Leonard, slightly unfocused
Most Needed Upgrades, Home Edition. We made a few changes around the house. Notably, the old pub table is gone, replaced by a modular dining room table.
Dinner mode...
...to storage mode (the most boring Transformer ever)
Our keyless entry panel stopped powering up after we changed the battery, so we got a new one. I'm not much of a handyman, but I did manage to take down the old one and install the new one.
And, flush with cash from a stimulus check, we also upgraded the toilets in our downstairs bathrooms. They are rimless, which is kind of weird.
Clean It Out, DVD Edition. Faced with a stack of DVDs and Blu-ray discs without a home, we decided to go through all our movies and get rid of them. After going through our collection, we loaded up four Amazon boxes of various sizes and took them to Half Price Books. We got about $50 out of the whole lot.
We had some good stuff in there (and some bad stuff!). Some were duplicates (two copies of Syriana?!) while others had been upgraded from DVD to Blu-ray or from Blu-ray to 4K Blu-ray. I kept the first DVD I ever bought, the two-disc edition of Gladiator, even though I have it on 4K. Some of the movies we parted with have digital copies, which is how we watch most of our movies anyway.
This was the first DVD I ever bought--and the whole reason I got a DVD player in the first place.
Writing Year in Review. I had a pretty productive writing year. After finishing several drafts of my book Also Starring Brock Calhoun as Himself, I wrote a sequel and started a third book. I submitted the novel to a couple places and got some bites (still waiting on responses). Then I saw 8-Bit Christmas on HBO Max, got inspiration for another book, and started writing Sega CD Summer. I'm 47,000 words into it. Once a first draft of that is done, it's back to the world of Brock Calhoun, followed by the completion of Inspector Willy, a book about a crime-solving turtle.
I took a few days off work to attend the 2021 Midwest Writers Workshop Agent Fest, which was a valuable (and virtual) experience. I've gone to an MWW event three times now: 2010, 2016, and 2021.
Movie Year in Review: Anne and I returned to the movies this year and saw several things in theaters. Here are some capsule reviews. WARNING: You may encounter some SPOILERS!
Fast 9. They did it. They went into space (sort of). Anyway, these movies are ridiculous and getting too ridiculous, in my opinion. A decent time at the movie theater enhanced by the fact it was our first visit to the south side AMC since March 2020, just before the pandemic hit. Too bad The Rock and Vin Diesel can't get along; the movies are better with Dwayne Johnson!
Black Widow. I know there's the feeling that this movie came too late. It's probably justified. I, however, had a marvelous time with this one. Loved the interactions of Natasha and her "family." Dug the spy vibe. Really liked Yelena. The villain was weak, Taskmaster was cool but underwhelming, and the third-act set piece didn't feel epic despite its huge scale. I think the characters made it work, though.
Snake Eyes. Really wanted to love this one and only kind of liked it. We didn't really see Snake Eyes because this was an origin story. I would prefer they followed the G.I. Joe comic continuity a lot closer. Honestly, you could've removed the G.I. Joe links and called this Generic Action Movie without losing much.
Jungle Cruise. It's a little bit Pirates of the Caribbean. A little bit The African Queen. A little bit Indiana Jones. I thought The Rock had good chemistry with Emily Blunt. I dug the throwback setting and pulpy feel of it all. Not sure I loved the "revelation" at the end. If they do make a sequel, I'd watch it.
Shang-Chi and the Legend of the Ten Rings. A really cool piece of the MCU. I loved the lead and his chemistry with Awkafina. Ben Kingsley absolutely killed it as Trevor Slattery, whose King Lear was the "toast of Croydon." Pretty interesting take on the Mandarin and the Ten Rings, and I wonder if Marvel will expand on that (of course they will!). While it had a small tie-in with Doctor Strange, I felt like this was mostly a standalone entry. And that's not a bad thing. Some great action, too.
Venom: Let There Be Carnage. If you need to turn your brain off for 90 minutes, this movie can help. Venom movies are an acquired taste as it is, and we simply went to this movie because we wanted to go to a movie that weekend and it was the only thing we were remotely interested in seeing. Despite some good actors trying their hardest, I kind of forget what it was about.
No Time to Die. It's over, Daniel Craig. No more Bond movies for you. The Daniel Craig era was an interesting one for Bond in that it built a somewhat cohesive story over the span of his five movies. I thought this was a fitting end for Craig's Bond, although the runtime felt a little indulgent. I'll forgive the movie's interesting but underused villain simply because it gave Bond more time to die.
Dune. A spectacular adaptation of a supremely weird book! A stellar cast, amazing special effects, and incredible worldbuilding. I still love the bagpipes of House Atreides. It's not perfect, though. It's really only half of a story (it ended at a sensible point, but it may leave some people wanting).
Marvel's Eternals. The first MCU movie I've truly been disappointed in. A stellar cast and heady ideas can't save a plodding story about some truly boring characters. What are the stakes here? Why do I care? Why should I care?
Ghostbusters: Afterlife. This is Ghostbusters in Spielbergian style, a story, at its core, about kids and family. I loved the lead actor and Paul Rudd. I enjoyed many of the callbacks to the original. The third act went full-on Ghostbusters Redux. I'm a little on the fence about that, but it was an enjoyable movie with a lot of heart, and I think that helps make up for some of its lesser parts.
West Side Story. A sumptuous retelling of the classic musical from Steven Spielberg. It's a box-office flop, which is a shame. I saw some imaginative choreography and appreciated the attempt at a diverse cast. While sitting in the theater, I realized just how many of its songs are in our musical canon. It's very impressive.
Spider-Man: No Way Home. Man. I'm not sure what to say about this one. It is completely overwhelming, in a good way! We get to see a few different iterations of Spider-Man, which is pretty cool, along with several returning villains from Spidey's tangled history. Willem Dafoe and Alfred Molina were incredible. The creative team made some bold decisions. An absolutely terrific Spider-Man movie. Go see it!
And here's what we streamed this year...
Only Murders in the Building. This Hulu original brought Steve Martin, Martin Short, and Selena Gomez together for an awesomely hilarious murder mystery that also included podcasting. Highly recommended.
American Crime Story: Impeachment. A very interesting limited series about the Monica Lewinsky and Bill Clinton affair that led to the former president's impeachment. Good performances in this one, although it's still weird to think of King Arthur's Clive Owen as Bill Clinton.
Ted Lasso. Believe. That is all.
Free Guy. This is a really fun movie! Ryan Reynolds stars as a non-player character who lives in a Grand Theft Auto-like game and breaks free of its rules. Some sharp humor, fun action, and a little bit of heart.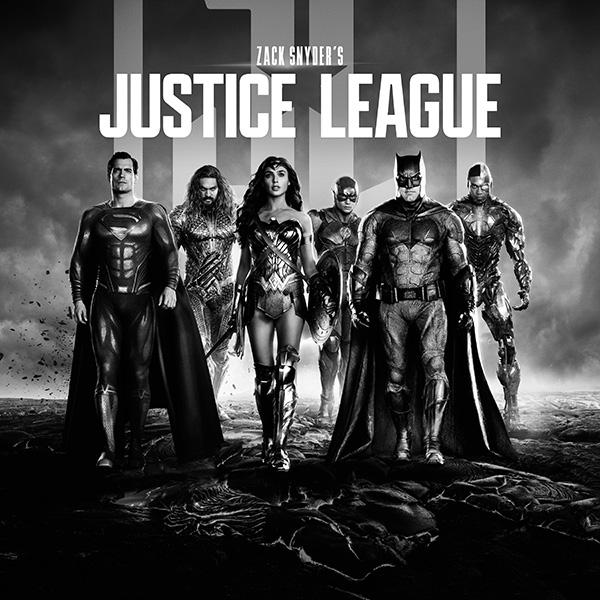 Zack Snyder's Justice League. It's a miracle this thing exists. The director's original vision for the Justice League movie was severely compromised when he stepped away due to a family tragedy. Joss Whedon took over, tried to lighten the tone, and turned in a tonally messy movie. HBO Max debuted a new version of the movie from Snyder, who packed it to the brim with four hours of...um...morose superhero fun? Anyway, it's a much different version of the movie that follows many of the same beats but gives the characters more depth and more room to breathe. It's hard to describe, really. Did it need to be in IMAX format? No. Did we need a redesigned bad guy? Nope. Did it need a black and white version? Absolutely not. Did we need to see it? Absolutely.
Matrix Resurrections. The biggest "meh" on this list. Even more of a "meh" than Venom: Let There Be Carnage. I like The Matrix, I loved seeing Keanu Reeves and Carrie-Anne Moss back in action, but it was just okay.
8-Bit Christmas. Take A Christmas Story and replace the BB gun with a Nintendo Entertainment System, and you end up with this movie. As a kid who grew up in the '80s, I really dug it.
The Staircase. Was it a bizarre accident or murder? This multi-part Netflix documentary attempts to answer that question. It's a fascinating piece.
Hawkeye. We got four MCU shows on Disney+ this year, and I liked each one of them. While a lot of people make fun of Hawkeye, I've always enjoyed the character. I thought this was a great show and a wonderful introduction to Kate Bishop. Kingpin is back! Trick arrows! PIZZA DOG!
WandaVision. If you can get past the weirdness of the first few episodes, this is a satisfying limited series. I mean that in a good way! It's an imaginative show with likeable leads and some very inspired production design that traces the history of TV sitcoms. You kind of have to see it to understand.
The Falcon and the Winter Soldier. I loved The Adventures of Sam and Bucky. A few things were undercooked, like the main villain and the Power Broker, but the main characters' chemistry really made up for it. It's hard to think of anyone other than Steve Rogers as Captain America, but Sam Wilson can carry the shield.
Loki. Who doesn't love Tom Hiddleston's Loki? It was great to see the character--or at least a variant of him--mess around in the multiverse. Alligator Loki! Richard E. Grant! I wasn't quite an enamored with the finale as some people; while the Kang stuff was interesting, I felt like it was just a bit too idiosyncratic. It didn't sink the show, though.
Seinfeld on Netflix. After spending years of watching Seinfeld on Plex, we now watch it on Netflix because it's easy. It's definitely better than watching it on its former home on Hulu, which meant sitting through the same three commercials over and over.