Once, long ago, I posted on the internet as Studicus, an in-joke nickname related to a skit from high school. When I first started blogging, I called my year-end entries "Studicus Selects." The tradition has continued since 2005...although I skipped 2006 for some unknown reason.
You'll find past entries here (scroll down for the 2020 picks):
Studicus Selects 2019
I don't have to tell you that 2020 was different. You know it. You lived it. The idea of "normal" went completely out the window in the early months. We had to work from home. Kids went to school from home. The simple act of going to the store became considerably less simple. Carryout and delivery meals replaced going to a restaurant.
When I headed out the door, my usual mental check--keys, wallet, phone--suddenly became keys, wallet, phone and mask.
The coronavirus pandemic has held us in its grip since the very beginning and changed the fundamental nature of socializing across the globe. You can't escape it. Not in Indianapolis. Not in Williamsburg.
Still, the first couple months were somewhat normal. I eventually adjusted to the "new normal," which is kind of like the old normal but a lot more boring and isolated.
In an abnormal year, it's nice to have some sense of normality.
It's in that spirit that I present this year's "Studicus Selects."
Best Unexpected Self-home Delivery, Couch Category. We loved our old sectional, which came from Anne's house after her parents replaced their downstairs sectional and gave us their old one. However, after several years, it was starting to wear out.
The fabric on the armrests had ripped, the stuffing was showing from multiple cushions, and there was a noticeable sag in the middle of one end. We looked around for a new one--in actual stores because COVID-19 hadn't made it to Indiana yet--and found one at Bob's Furniture on the south side.
We ordered the couch and had it delivered on Saturday, February 22.
What an experience that was!
I suggested that the moving crew bring it in through the garage because there's more room to maneuver there than the front door. They kept trying to angle the thing through the doorway--and it wasn't working.
After like two attempts, one of the guys told us the couch wouldn't fit and we'd have to have it returned to the store and order a new one that fit.
We had, obviously, already moved the old couch out and had nothing in our living room. I made a suggestion: take the door from the garage off its hinges and bring the couch straight through the doorway. I measured; it would fit.
The guy was skeptical of this and basically said it wasn't worth trying. I told him we should give it a shot; his coworker agreed with me and said we should try it before giving up.
I picked up one end of the couch and the coworker picked up the other. We got it through with a little finesse.
That's right. I moved my own couch into the house.
The crew had endured a tough delivery before coming to our house, so they arrived in a not-so-great mood. However, I think you should probably try just about everything before telling a customer they'll have to send their couch back and order another one.
Seriously.
We keep a cover on the couch now, but this is what it looks like in its natural state.
Best Public Event, Pre-pandemic Category. Anne and I went to Disney on Ice at Bankers Life Fieldhouse on January 22.
Do I remember much of the show?
Not really.
However, I do remember watching something in a crowd and going out in public without having to wear a mask, so I'll call that a win.
We've seen Disney on Ice several times over the past few years, but they all kind of blend together. Was there a magic carpet ride? Did they sing "Be Our Guest?" Was there a Moana segment?
Honestly, I can't remember.
Best New Addition, Family Category. We added a niece this year, the adorable Josie.
We haven't gotten to see her in person yet (thanks, pandemic), but we've gotten to see plenty of pictures and videos. Video calls have also helped a lot!
She's the daughter of my brother-in-law Matt and sister-in-law Leah. Such a precious little thing! We can't wait to meet her and watch her grow over the years.
Distance is tough--the pandemic makes it worse--but we'll meet her before she learns to drive. Anne calls her "Little Squish," and I think it's just adorable.
Just a really great family!
We're as enchanted by her as she is by the Christmas tree!
Strangest documentary that tried to heal a fractured nation, Netflix category.
Hey, remember
Tiger King?
The Netflix documentary premiered as the pandemic was just starting in the U.S. It became, for about a month or so, a national obsession as people learned about Joe Exotic, Joe Exotic's insane music videos, Joe Exotic's many tattoos, Joe Exotic's husbands, Joe Exotic's financial troubles, Joe Exotic's presidential run, and Joe Exotic's passionate hatred of one Carole Baskin.
I still can't believe this was a thing that happened.
What are your thoughts on Carole Baskin? Righteous animal rights crusader? Conspiratorial gold digger?
Most Surreal Sight, Personal Shopping Experience. In the early days of the pandemic, you couldn't buy anything. Need paper towels? Toilet paper? Disinfecting wipes? Frozen pizzas? Meat?
It was incredible. I almost made a list of eight stores in my area so I could drive to each one and see what they had in stock. A lot of communities did similar things in Facebook groups or neighborhood apps.
Finding toilet paper in those days was like finding a PlayStation 5 or Xbox Series X right now. I feared, at one point, we would have to barter toilet paper for food or other supplies. That didn't come to pass.
But, man, going to Target was weird. I snapped a couple pictures from the Southport Target on March 22 after finding the aisles cleaned out.
The paper goods aisle--cleaned out
Not much going on here in the frozen goods section because everyone dined on frozen pizza!
If you found wipes or toilet paper in those days, you really did feel like you'd won the lottery. But if you came across a bounty of such items, it didn't matter--stores limited you to one item per transaction.
How it feels to find the last container of Clorox wipes at the store...

Unexpected Money, El Presidente Stimulus Category.
When the pandemic runs its course (and with these vaccines on the way, I believe it will), we should all get t-shirts saying, "I survived the pandemic and all I got was this lousy $1,200 check."
Snark aside, these did help a lot of people. It would've been nice for those same people to get a second check much earlier, but hey, another $600 is on the way.
I enjoyed the letter we received from the president, which explained the reason for the payment accompanied with the same letter translated en español from "Presidente" Trump.
We used some of the money to upgrade our cell phones and pay off the rest of my student loan.
Signature or cardiogram? You decide
Our Year at the Movies, Truncated Theatrical Engagements Category.
Typically, the Studicus Selects columns have a ton of movie recaps because Anne and I go to the theater a lot.
However, we haven't been to the movies since March. A look back at our ticket history on the AMC Theatres app shows seven visits to the theater from January 1, 2020, through March 8, 2020.
Here's what we saw:
Star Wars: The Rise of Skywalker.
I really liked it. I saw it on January 1 and January 19 after catching multiple showings in 2019.
My review
.
Knives Out. An entertaining murder mystery from "the guy who ruined Star Wars." Really enjoyed this one! Still, Anne and I refer to the director as "Master of Subversion Rian Johnson." We saw this on January 11.
Frozen 2. Snow. Singing. Olaf. You know what you're getting from a Frozen movie. We saw this on January 14.
Harley Quinn: Birds of Prey (I'm not using the ridiculous full title). A pretty fun romp in the DC Universe. High-quality action. Good use of Ewan McGregor. Anne sat this one out...it was a Matt and Krildog joint venture on February 8.
1917. An incredibly conceived and shot war movie. Really feel like Sam Mendes deserved the Best Director Oscar for this one. We saw this on February 9.
Call of the Wild. Harrison Ford is a grumpy old man with a CG dog. I read the book after seeing the movie. I found the ending incredibly touching. It underperformed at the box office, but you can find it on HBO Max. We saw this on March 8 with Anne's dad....and we haven't been back to AMC since.
Our Year in Streaming, Streaming-Palooza Category. Anne and I saw our parents and friends only a few times this year. We sat out Thanksgiving and bought meals from Denny's.
As a result, we watched the vast majority of our entertainment at home in 2020.
Here are a few highlights:
Unsolved Mysteries. The show got a Netflix reboot (good first half, so-so second half) that's more in the true crime podcast vein than the original show. The reboot got us interested in the original show, and we streamed several seasons of Robert Stack's Unsolved Mysteries before taking a little break.
The Boys. Hyper-violent, crude, and uncomfortably hilarious and poignant, this is a solid effort on Amazon Prime. Due to the nature of the show, I can't really recommend it for the squeamish or anyone who loves the superhero genre so much that they can't make fun of it. Definitely TV MA here.
I'll Be Gone in the Dark. This is a good series from HBO on the search for the infamous Golden State Killer. It's well done, for the most part, but sometimes the show felt like it was focused more on Michelle McNamara as opposed to the quest to find the killer. Still a good watch.
McMillions. We really enjoyed this HBO doc on a scheme to disrupt and profit from the famous McDonald's Monopoly promotion. It's engaging and will keep you guessing about how a security guard managed to rig the game to benefit friends and family.
His Dark Materials. I liked the first season, but I've felt like season 2 has been more engaging for me. It's probably because I understand the world better after the first season. As of this writing, we haven't watched the finale yet.
The Last Dance. This ESPN miniseries chronicles the rise of the Chicago Bulls and their two three-peats. It's absolutely spectacular. Even Anne, who likes sports but isn't exactly a huge sports fan, found it thoroughly captivating.

Peyton's Places. I've always loved Peyton Manning. However, we don't have ESPN Plus, so we couldn't watch his show. When the pandemic hit and sports were canceled for a bit, ESPN aired the show and we set a series recording. Like football? Like Peyton? It's great stuff.
Schitt's Creek. The show launched a million memes and gifs, but it's genuinely funny and, at times, touching. Early on, the main characters have dinner with some old friends who tear down the town--and Johnny Rose takes offense. It's a great moment.
Picard. Patrick Stewart is back as Jean-Luc Picard. A few TNG favorites return. The plot involves Data and AI. It's pretty twisty. I'll never complain about seeing more of one of my favorite characters.
Onward. While this came out before the pandemic, Disney sent it to VOD early after it was clear movie theaters would have to close down. A very enjoyable story about a pair of brothers in a fantasy-inspired world.
Trolls: World Tour. Another Trolls movie. It went straight to VOD because of the pandemic. I remember nothing about it other than having to pay money to watch it.
Jumanji: The Next Level. I really enjoyed the first one; we didn't see the second one in theaters and finally snagged the digital version when it was on sale. Thoroughly entertaining, if predictable. Seeing The Rock portray Danny DeVito is pretty good stuff.
Bill & Ted Face the Music. Another movie pushed directly to digital because of the pandemic, this is a fun and heartfelt third movie in the Bill & Ted series. The guys are older but no less entertaining. Wyld Stallyns rule!
Mulan. We paid the "Disney tax" to watch this early on Disney+. Somehow, it's simultaneously the same yet completely different from the original movie. The stuntwork is pretty good and I like the cast. Miss the songs, though. Glad Ming-Na Wen had a cameo.
The Trial of the Chicago 7. An excellent look into a fascinating case. Great acting and casting in this one. Will probably track down a book about the case because it was so interesting.
Howard. A look at the life of Howard Ashman, the man responsible for writing the lyrics to some of Disney's greatest movie songs. He was passionate and driven, even to the end while dying from AIDS at age 40.
Totally Under Control. Did the U.S. mismanage the pandemic? Um, yeah. This documentary premiered on VOD before being made available on Hulu. It'll tick you off.
Athlete A. It's amazing the lengths USA Gymnastics went to in order to protect people who should've been exposed long ago. You can't help but feel for the brave athletes who stepped forward and finally got someone to listen.
Eurovision Song Contest: The Story of Fire Saga. This was a thoroughly ridiculous movie. Somehow, Will Farrell and Rachel McAdams made it work. The elves went too far, indeed. Play "Jaja Ding Dong!"
The Old Guard. An unexpectedly solid action movie from Netflix starring Charlize Theron that follows the adventures of a group of long-lived soldiers who've influenced world events for hundreds of years. Some really good action scenes in this one.
Enola Holmes. A diverting mystery featuring the teen sister of Sherlock Holmes. Good casting with Millie Bobby Brown and Henry Cavill. Really dug the music.
Soul. Another winner from Disney-Pixar. Sort of a mashup of Heaven Can Wait and Inside Out. Great animation and a heartfelt story with good performances all around.
Wonder Woman 1984. I love Chris Pine. I love Gal Gadot. I didn't love the movie. Felt like Pedro Pascal needed to be dialed down from 11 to about 8.5. Couldn't care less about Barbara Minerva. Not nearly as good as the first, unfortunately, making it a letdown for me.
Most Out of It Dog, Howard Surgery Category. Poor Howard had to have several teeth pulled earlier this year. It's part of being half-chihuahua--they tend to have problems with their teeth. He was at the vet's office almost all day.
While they were finishing up his surgery, a car crashed into a pole and the power went out at the facility. The vet had to wrap things up early and leave one tooth unpulled because they couldn't see well enough to do it in the dark.
When we finally picked Howie up after 10 p.m. that day, the poor guy was out of it! It took a few days of medicine and recovery before he was acting like his usual self.
Please give me all the cuddles, Mommy!
What day is it? Who are these people? How do I tell them I have no inner monologue?
Best Dressed Dog, Howard Category. Howard's wardrobe has expanded over the last year. Here are some of his best looks...
It's very hard to get a good picture of him in a bandana, so this will have to do
The classic blue "Adidog" sweatsuit keeps his tummy warm
It's just Howard in a harness, you know, behind the wheel at the Dairy Queen drive-thru
This is the green Adidog sweatsuit, the second of three
I call this the "Hamburglar" outfit
"Lumberjack chic"
The "Bert and Ernie" look
The third Adidog sweatsuit is yellow
Howard's Santa outfit, which he wore precisely long enough for me to snap a few pictures
Best Willy photos, Willy Category.
Our turtle, Willy, needed a procedure this year as well. His upper dental plate was growing out of control, so we had to take him to a specialist to have it ground down.
For a time, we noticed Willy's mouth was almost always open. Now we know why: the dental plate had grown to the point that he couldn't close his mouth! The vet worried that, if it continued to grow unchecked, he wouldn't be able to chew his food.
Some Willy photos:
"I am ready for my closeup"
Willy on a walkabout outside; we let him romp when we can
Basking turtle!
You can see his mouth is a bit open here
More basking turtle!
We call this "full tuck"--and it's hard to snap a picture of him because he usually wakes up before you can get one
Willy loves being held!
Sometimes it looks like he just doesn't want anyone to bother him!
Out of the tank on a walkabout in the house
One of the great all-time Willy photos!
Best Looks of the Year, Lenny Category.
Lenny, our little leopard gecko, is the recluse of the group. Howard's always around the house. Willy's tank is in the living room and he gets visited often. Lenny, on the other hand, is active at night and sleeps during the day.
It's harder to get pictures of him, but we've managed...
Lenny on his moist hide
"Does this look heroic enough, Dad?"
"This isn't really my good side, but I'll let you take the picture"
Lenny likes to squeeze himself in the strangest places sometimes
"Listen, can I get a drink of water without having my picture taken?"
He looks like he's surveying enemy forces in this one...
Lenny gets out a couple times a week and likes to find a warm, safe spot
He looks pretty content in this one!
Late Christmas Gift, Kind of, Home Arcade Category.
I grew up in the '80s and '90s. Arcades were a big thing back in those days, and I've always wanted my own arcade machine. The Arcade 1Up machines are really cool, but I don't like the fact that they're limited in the number of games they play.
I had my sights set on the Legends Ultimate from AtGames. To be clear, AtGames hasn't had the best reputation when it comes to video game emulation. Some of their products, especially their earlier Sega Genesis clone systems, were less than fantastic.
However, they've made a concentrated effort to improve their products, and the Legends Ultimate is a great machine. Last Christmas, I requested gift cards from Walmart because Walmart and Sam's Club are two of the few retailers who sell the product.
For a time, they were hard to get! I kept stock alerts and they kept selling out before I could get one. The pandemic, obviously, didn't help with production. In September, the machine was in and out of stock and I finally got one at Sam's Club, using some of the gift cards from Christmas to buy one.
There was one little hitch: I mistyped the address, which I didn't notice until I received the shipping email. When I tried to get that changed, Sam's Club told me to contact UPS to change it; UPS said they couldn't change the address without authorization from Sam's Club; Sam's Club said they couldn't change the shipping address without authorization from me via UPS...anyway, I ended up having to cancel the order but managed to secure another. It's...um...prominent in the man cave, to say the least.
Maybe one day I'll actually be able to have people over to play it! Some of my top games: Captain America and the Avengers, Teenage Mutant Ninja Turtles: The Arcade Game, NBA Jam, BurgerTime, Frogger, and WWF Wrestlefest.
The machine comes pre-loaded with about 300 games. The best thing, however, is that you can add your own games. You just, um, have to know where to look, you know?
A look at the control deck, with has two joysticks with six-button layouts, a pair of spinners, and a trackball that's great for bowling games
It's got a light-up marquee, which is a nice touch
Best Practical Purchase, Dryer Category.
We've had our dryer since we got married. Our washer and dryer were wedding gifts from Anne's parents. We got married in 2006, so we got more than a decade out of each. We bought a new washer in 2019 and the dryer finally called it quits this year.
I ordered a new one from Best Buy--the Whirlpool model that pairs with the washing machine we purchased last year.
Because things just can't go right--think of the couch delivery or the Sam's Club address story shared earlier--the delivery guys arrived, hauled off the old dryer, and then noticed that the new one was broken. The front panel of the new machine was coming off and the seals were broken.
We had to refuse delivery; when we called Best Buy support, we were advised that we wouldn't be able to get a new dryer until late December 2020 or late January 2021 (we ordered the dryer in October, so you can see the problem here).
I dropped by the local Best Buy and asked them about that; the manager there told me that was "stupid" and the model was in stock. She couldn't figure out why they said we couldn't get one until December. I ordered a second one, and it arrived at home a few days later. This one was completely intact and we love it.
Sometimes big purchases are fun...like an arcade machine...and sometimes they're just practical...like a dryer
Unexpected Early Christmas Gift, Xbox Series X Category.
Typically speaking, I avoid buying new video game consoles when they launch. There are several reasons for this. First, if you give it a few months, the prices will come down. Second, availability isn't fantastic. Third, launch game lineups can be on the thin side. Fourth, it takes developers time before they learn to get the most out of a machine. Fifth, sometimes the new systems don't come with pack-in games.
For example, the Xbox One came out in 2013 and cost $500. You got the system, Kinect, and the controller. That was it.
I bought my Xbox One in 2015. It was $340 and came with two Tomb Raider games, Assassin's Creed Unity, and a $60 digital code for the Xbox store.
So when the Xbox Series X | S and PlayStation 5 came out, I figured I'd wait to buy one. There would be better deals, the launch lineups were flimsy, and they were impossible to buy.
People were having such problems getting the new consoles that I wondered if I could get one. I paid attention to different drop dates and times and tried to get one when Best Buy announced they'd have some in stock. I logged on, confident I had zero chance of getting an Xbox Series X because of demand and scalpers, and tried to get one.
Suddenly, I had one added to my cart. Then I received an email from Best Buy with a confirmation number to verify the purchase. After I added that, the website asked me to select a store for pickup. I selected the Greenwood store.
I finalized my order.
I received an email confirming my order. I didn't believe any of this was real. I figured the order would be canceled--that happened to people frequently because demand for the systems has been high--but it was real. I picked it up from Best Buy in November.
Listen, I'm not complaining. I'm happy to have the Xbox Series X! It's just that I didn't really think I'd be able to buy one, given all the problems people have had. It's a great system; the games load super-fast and I'm playing so much Assassin's Creed Odyssey right now.
Microsoft did a nice job with packaging
Best Buy was an absolute madhouse on pickup day, but we got it!
I used a gift card to buy this 2018 game and I absolutely love it!
Writing Year in Review.
To be honest, writing kind of went by the wayside this year. I worked from home a lot and it was a very stressful year that made it difficult to get into the routine of writing. I wrote a book this year, which is great, but I usually write a couple novels a year and try to write every day. That didn't happen in 2020.
As I mentioned, I did write a novel, Also Starring Brock Calhoun As Himself. The original draft came in at about 113,000 words and I edited it down to 94,000.
It's about a burned-out actor who has to team up with the characters he played in the movies to save the universe.

Here's the summary:
No one thought Brock Calhoun's three-decade run at the box office would ever end.
Until it did.
The roles dried up. Sure-fire hits flopped. His wife left him for an underwear model.
Now in forced retirement, he hits the convention circuit in a desperate attempt to relive his glory days. He counts his little dog Angie as his only true friend.
When costumed intruders break into his home, Brock mistakes them for overenthusiastic cosplayers from one of his blockbusters. In truth, they're trained killers sent by Dr. Thelonius Rickard, a movie-villain-made-flesh determined to make Brock pay for the cinematic sins of one of his iconic characters.
But action heroes from Brock's extensive filmography arrive just in time. These fictional characters now exist in the real world, too—and they need help from the man whose face they share.
With loyal Angie in tow, Brock will traverse cinematic worlds made real—from the windswept plains of the Realm of the Blood Sword to the rainbow-colored Land of Candy and Sugar—in a race against Rickard, a beguiling rogue whose obsession with the actor will either grant him control over reality or prove his undoing.
With the fate of the universe and his Hollywood legacy at stake, Brock must become the ultimate leading man—no script, no stuntman, and no reshoots allowed.
I like the book. But then again, I wrote it.
I worked on some editing for other projects. The only other real writing I did was a short story called Gary, the Sith Eternal, which is about a guy stuck on the Sith planet from Star Wars: The Rise of Skywalker.
Speaking of Star Wars...
Biggest Emotional Moment, The Mandalorian.
I didn't include
The Mandalorian
in my streaming section for a good reason--I wanted to write a little more about it. The first season was fantastic, and the second season was great as well.
For season 2, I really liked the premiere episode, "The Marshal." Other favorites were "The Jedi" and "The Tragedy."
But I really want to talk about "The Rescue," the season two finale.
I've come to terms with the sequel trilogy and The Last Jedi. Some love it, some hate it...there's little middle ground about that movie. The sequel trilogy robbed me of two things: the chance to see Han, Leia, and Luke together again and the chance to see Luke Skywalker, fully powered Jedi Master.
Luke's moment at the end of The Last Jedi was great; I'm not disputing that at all. But we have never gotten to see him do this:
"I'm Luke Skywalker. I'm here to rescue you."
Things were looking grim for Mando, Grogu, and the rest of the team. Dark Troopers (again, I can't believe I'm getting to write about this) were pounding on the doors and ready to kill everyone.
An X-Wing arrived.
The green lightsaber.
The hilt. The gloved hand.
I couldn't believe what I was seeing. It would make sense for Luke to show up and answer Grogu's call from earlier.
I just didn't think it would happen.
But there he was.
The music was fantastic. The buildup was tremendous. We got to see Luke Skywalker, Jedi Knight, absolutely wreck shop.
He stood patiently outside the door after cutting through those Dark Troopers, signaling that he was no threat to the people inside.
Mando opened the door. The hooded figured tucked away his lightsaber and then...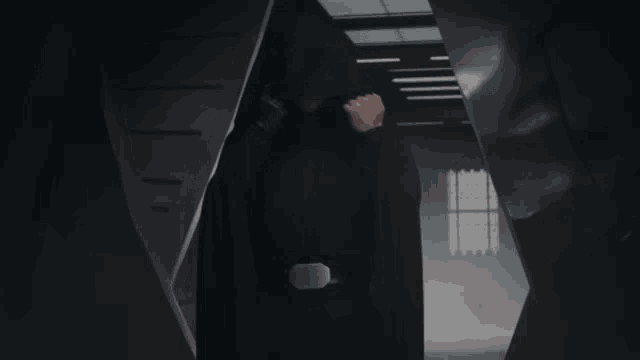 "They're not saying 'boo,' they're saying LUUUUUUUUUKE!"
I was 6 years old again. Or maybe 10 years old. Or maybe 18. Or 30--I'm a lifelong
Star Wars
fan.
Thank you, Jon Favreau, Dave Filoni, and all those who've made The Mandalorian so great.
"Talent without training is nothing."
"I will give my life to protect the Child."
Here's to a better 2021 for everyone.